Dog Training Treat Waist Bait Agility Bag Puppy Pet Pouch SPARKLE
Dog Walking Phone, Keys, Treats, Poop & Poop Bags Bag
Australian Stock! - Australia Post Shipping With Tracking!
Intro...
These days taking the dog for a walk means taking the keys, phone, treats, poop bags and the poop home with you! We think there is nothing more annoying than having all these things in your pockets and hands. This product solves all of this and is great for people who love to walk, run or get out n about with their dog.
We're making it easy to clean up after your dog with this light weight, versatile high quality product.
With Aussie stock and Australia Post Postage you will get it much quicker than much of the competition.
We are confident that you and your pet will love this product.
This treat bag is worn around the waist and uses Durable Velcro to keep it closed.
It will remain securely shut when not in use.
Pulling on the lid flap will make the Velcro noise, which will get you dogs attention.
Great for agility, running and exercising with your pooch.
Compartment inside is fully lined with the clear vinyl coating.
No holes, not mesh type, its extra secure and great for extras such as whistles, training clickers, poop bags,and DogTreats
or your personal belongings.
Ideal for training and play.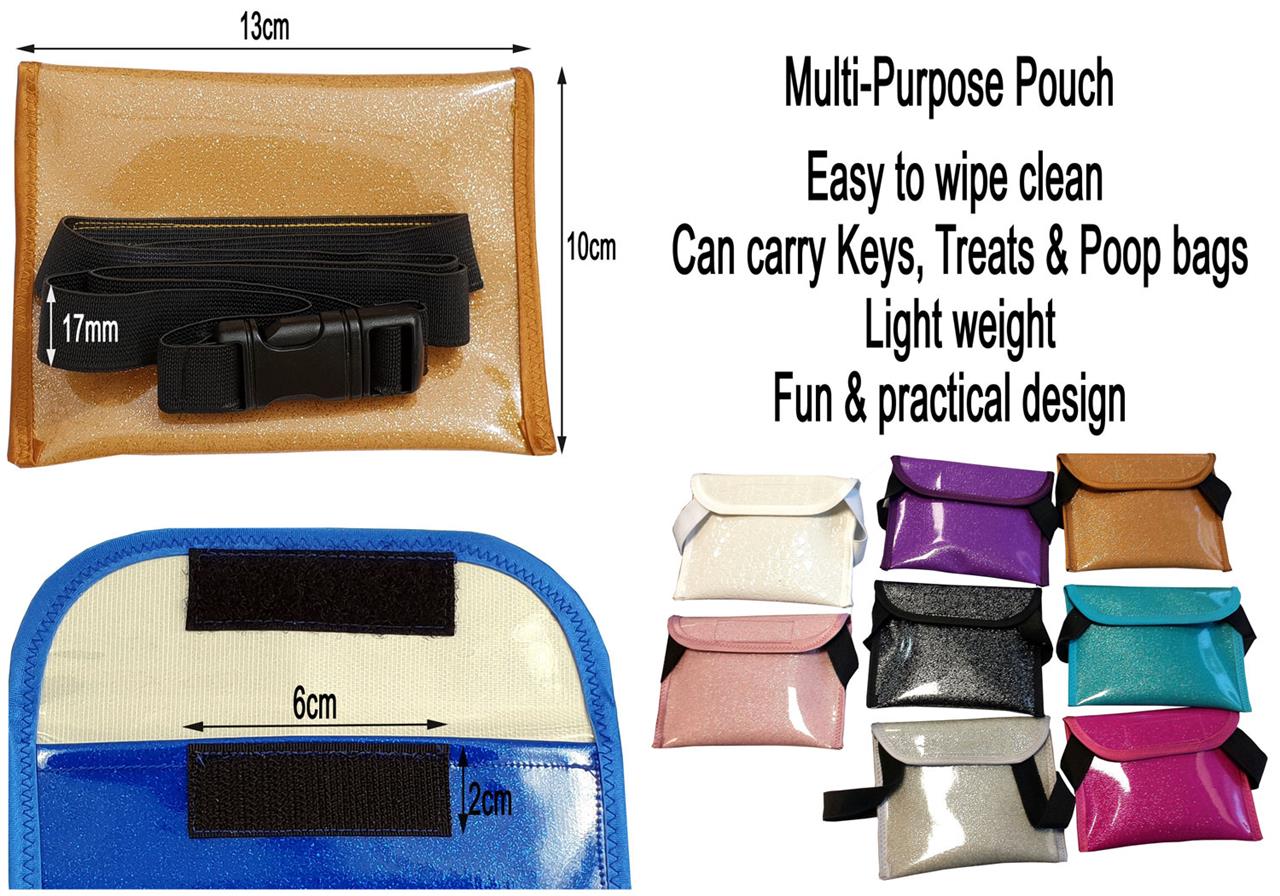 FEATURES:
Training Pouch
-Brand New and High Quality
- Sizes: Bag 13cm*10cm
Belt 90-170cm (Adjustable)
- Material: Metal Fleck Sparkle Vinyl ( wipe clean only)
- Weight: Approx. 70g
- Fast Shipping from Brisbane!!
In the Package:
1x Dog SPARKLE Training Treat Bag with sewn on Elastic Belt
Note: Dog Food is not included.
We have taken these pictures ourselves and believe them to be as accurate as possible.
However, we have no control over the colour inconsistencies on monitors,
The exact colour of our products you see on your screen
may not be an accurate depiction of the actual colour.
Screen images should be used as a guide only.