Heavy Duty Fully Galvanised and Powder Coated

NEW 2018 SHIPMENT ARRIVED

All Sets from 6 to 14 Panels come with only 1 Door .
We sell extra Panels AND Doors if needed.
GATES REQUIRE GREASING ON A REGULAR BASES BY CUSTOMER.
NEW 2018 MODEL
Powder Coated in Black Vein Finish
80cm x Panel Sets all come with 1 Door only.
120cm x Panel Sets all come with 1 Door only.
150cm x Panel Sets all come with 1 Door only.
GATES REQUIRE GREASING ON FIRST USE.
GATES REQUIRE GREASING ON A REGULAR BASES BY CUSTOMER.

Vertical Wire 2.7mm
Horizontal Wire 4.1mm

Be assured our pens are Galvainsed dipped and Hammer Finish Powder Coated.
Our tube pens are treated inside and outside.

Our Tube pens have Extra features like.
Wider Gates Desigend Especialy for us at Pet Homes.
Wider Barndoor Design for Greater Versatility.
Safety Hooks on the Locks.
No Tools required.

We are proud to present our Tube Pen Enclosure with the following features:-

Brackets for permanent place use.

Plastic inserts to protect rods coating.

Portable and Convenient

One Person Setup – No Tools Required.

WIDER 500mm Barndoor Gate System

.

High step over to prevent animals rushing out of gateway.

Feeding Gate.

Brackets to bolt to walls.

Make any shape to your convenience

Non Marking Plastic End Caps for inside floors

Square Metal Tube Frame

Flat Packs for Easy Storage or Transport
Can be arranged into may shapes.
Features Included with Run Enclosure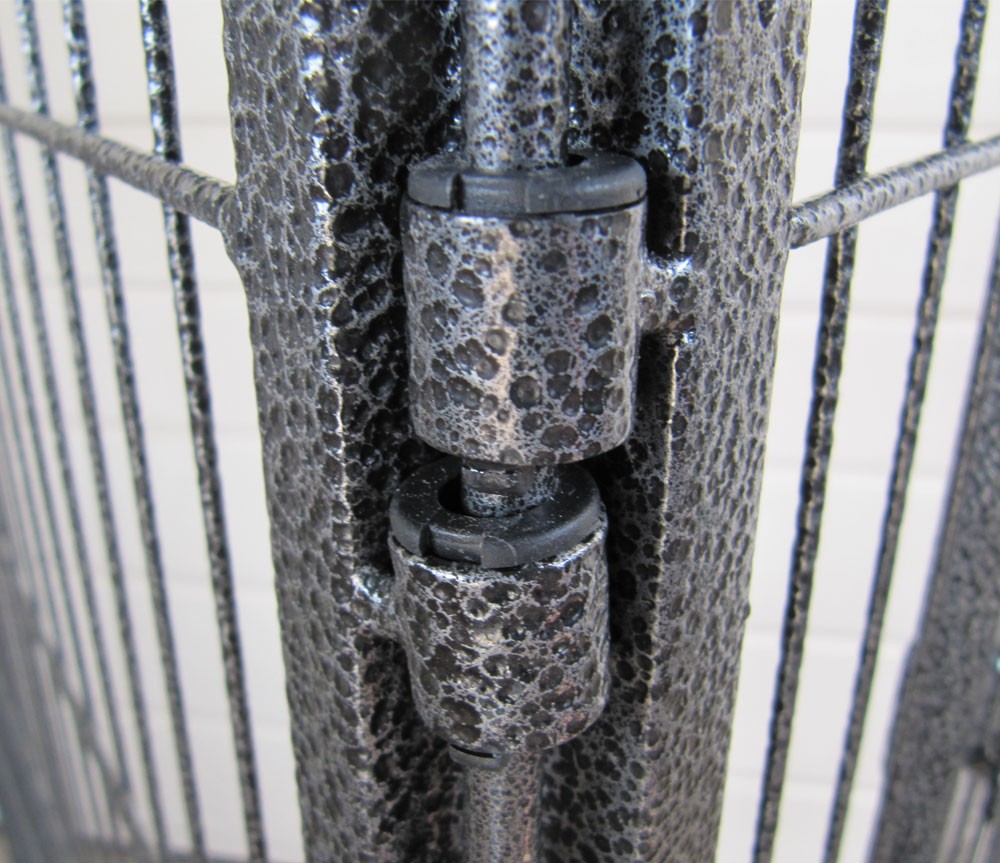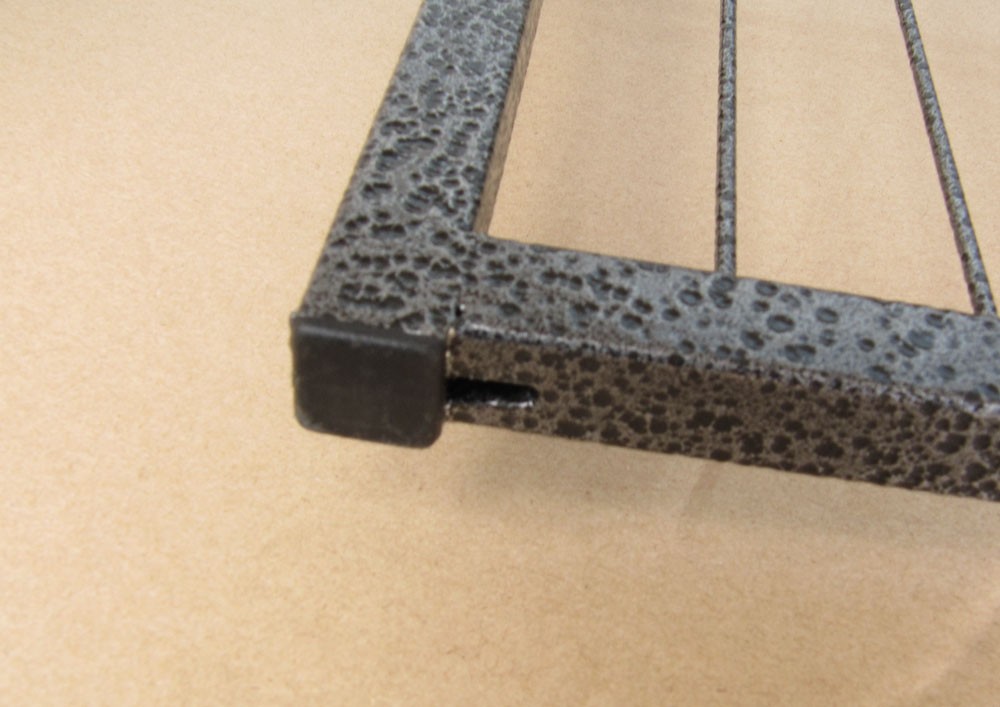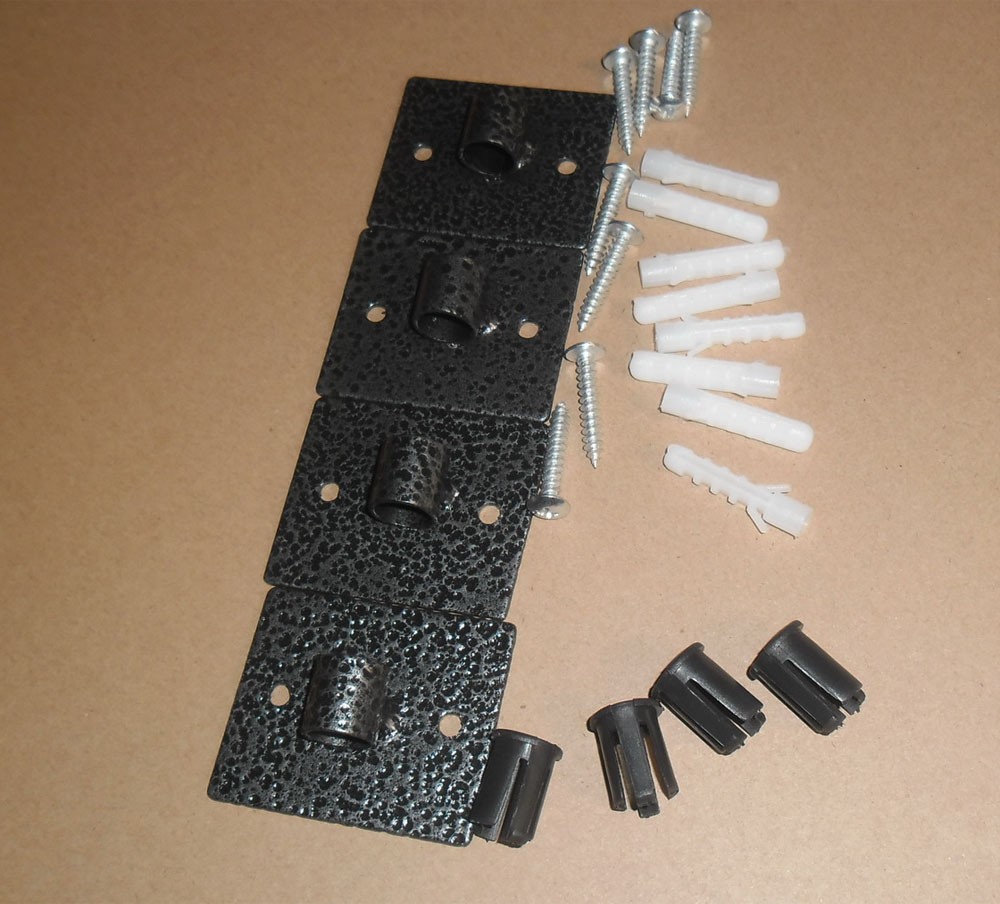 Comes with Plastic inserts to protect rods Plastic feet on all corners 4 Bracket SET for attaching to walls/posts
12mm bracket hole, 6mm plastic sleeve hole
Bracket Galv dipped and powder coated
Screws and plugs included
The square tube Galvanised frame gives great strength and durability allowing for larger animals to rest against without fear of collapse.

The WIDER 500mm Barn door system allows easy access for you to enter and exit without your pet or puppies sneaking through the open door at the same time.

It is able to be set-up in several configurations from square, rectangular, circular etc..

Can be used inside or outside. No tools required for set up.
Each of the panels come as a separate piece so you can leave some panels out to make your pen smaller or add more panels to make it even larger.
This pen is the perfect item for rehabilitation and confinement of an injured pet. Or just to contain that litter of pups in a safe secure area but still giving them some fun romping time outside in the fresh air.

Fantastic for travel as it flat packs which makes it portable and convenient. Also allows for easy storage when not in use.
Specifications
Extra Thick Square Tube Steel :- 16mm SQUARE

Vertical Steel Wire :- 2.7mm

Horizontal Steel Wire :- 4mm

Spacing between Vertical Wires :- 32mm

80cm x Panel Sets , Each Panel weighs about 3.5 Kilo
120cm x Panel Sets , Each Panel weighs about 4.3 Kilo
150cm x Panel Sets , Each panel weighs about 5 Kilo

BOX SIZES
BOX THICKNESS , MULTIPLY QTY OF PANELS BY 16MM :- Example, 8 panels x 16mm = 128mm box Thickness
BOX LENGTH + 4CM TO PANEL HEIGHT :- Example , 120cm +4cm = 124cm box Height
BOX WIDTH WILL ALWAYS BE 84CM , NO MATER WHAT HEIGHT,

Dimensions for all Models
SIZES
PER PANEL HEIGHT
PER PANEL WIDTH

BARNDOOR

WIDTH

TOP BARNDOOR HEIGHT
MIDDLE BARNDOOR HEIGHT
DOG SIZE


Standard

80cm

80 cm

50cm

42 cm

20cm

Small to

Small Medium

Tall

120cm

80cm

50cm

63cm

20cm

Medium to Very Large

Extra Tall

150cm

80cm

50cm

92cm

20cm

Extra Large
<!/><!/><!/><!/><!/><!/><!/><!/><!/><!/><!/><!/><!/><!/><!/><!/><!/><!/><!/><!/><!/><!/><!/><!/><!/><!/> <!/><!/><!/><!/><!/><!/> <!/><!/> <!/><!/> <!!/><!!/><!!/><!!/><!!/><!!/><!!/><!!/><!!/><!!/><!!/><!!/><!!/><!!/><!!/><!!/><!!/><!!/><!!/><!!/><!!/><!!/><!!/><!!/><!!/><!!/><!!/><!!/><!!/><!!/><!!/><!!/><!!/><!!/><!!/><!!/>
This product does not have any reviews yet
Be the first to review this product